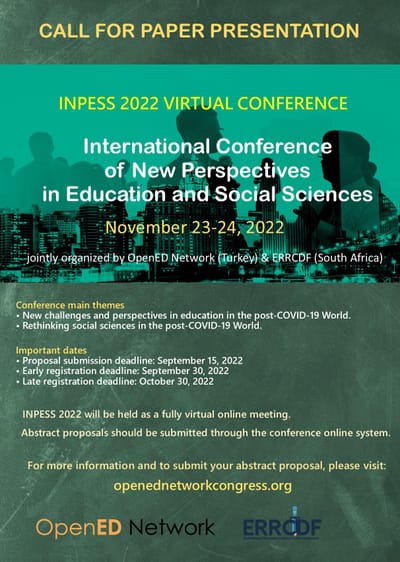 INTERNATIONAL CONFERENCE OF NEW PERSPECTIVES IN EDUCATION AND SOCIAL SCIENCES (INPESS 2022)
You are invited to participate in the International Conference of New Perspectives in Education and Social Sciences (INPESS 2022). The Conference will be held as a fully virtual/online meeting on November 23-24, 2022.
INPESS 2022 is jointly organized by
OpenED Network
(Turkey) and
Education Research and Rural Community Development Forum
(South Africa). The Conference aims to bring together researchers, experts, graduate students and practitioners from different countries, and to offer opportunities to share the ideas, and to discuss theoretical and practical issues in education and social sciences.
To attend the Conference, please
register
and
submit your proposal
first. The proposal will be added to the submission panel in your account. If your proposal is accepted for presentation, then you may upload your full-text paper for publication in the proceedings book. To prepare your proposal, please refer to
Conference Guidelines
.
The main themes of INPESS 2022 are:
New challenges and perspectives in education in the post-COVID-19 World.
Rethinking social sciences in the post-COVID-19 World.
Other topics of the conference include:
Research methodology in educational and social sciences
Social sciences and technology
Education, culture and societies
Ethical issues in education and social research
Poverty, social inequalities and education
Race and gender in education
Democracy and human rights education
Arts and humanity education
Media literacy education
Social sciences education
Higher education studies
Curriculum and instruction
Educational psychology and counseling
Educational administration, management and leadership
Educational planning and policies
Educational technology
Environmental crises and education
Health education
Human capital development in education
Indigenous knowledge education
Language learning and teaching
STEM education
Measurement and evaluation in education
Vocational technical education
CONFERENCE CALENDAR
Proposal submission deadline: September 15, 2022
Early registration fee payment deadline: September 30, 2022
Late registration fee payment deadline: October 30, 2022
Listeners (participants without paper presentation) registration deadline: November 15, 2022
Full-text submission deadline: November 18, 2022
Conference date: November 23-24, 2022
For more information, please visit the conference website at
https://openednetworkcongress.org/